We hope everyone had a wonderful holiday. Now that we are full of ham, lasagna, fish or whatever your family has as a traditional Christmas meal, lets take a look at how the Navy has celebrated Christmas dinner over the years.
Navy Christmas
from: https://www.history.navy.mil/browse-by-topic/heritage/life-aboard/navy-xmas.html?fbclid=IwAR0CJZsIfJepmnSe0pSD1BP5L8znSLeGzMgx9NSd0iOQ_M3c84T0rlT79Cw
Holiday Menus from the Steam Era to the Nuclear Age
In the Navy, the period between Christmas and New Year can be a poignant, introspective time, particularly during deployments and operations far from homeport and family. Recognizing this, the service has always strived to emphasize the joyous side of the holidays, not least through dinners that have drawn on everything that storerooms, reefers, and local markets have had to offer. A sampling of command menus from NHHC's collections from the 1910s through the 1950s, from the mess spaces and wardrooms of the aging coastal monitor to those of the Cold War destroyer, follows.
USS Barry (DD-933). Barry was commissioned in September 1956, three months before this holiday dinner. At the time it was being served and prepared, the ship was still being fitted out at Boston Naval Shipyard. Nonetheless, the meal was extensive and included a challenge to most cooks: enough Yorkshire pudding for the entire crew.
And from The Navy Times :
https://www.navytimes.com/news/your-navy/2018/12/24/heres-what-the-mess-served-navy-shipmates-on-christmas-days-of-the-past/
The Year: 1917, about eight months after the United States entered World War I.
The Ship: The "Bulldog of the Navy" Oregon, a pre-dreadnought, Indiana-class battleship commissioned in 1896. Old school.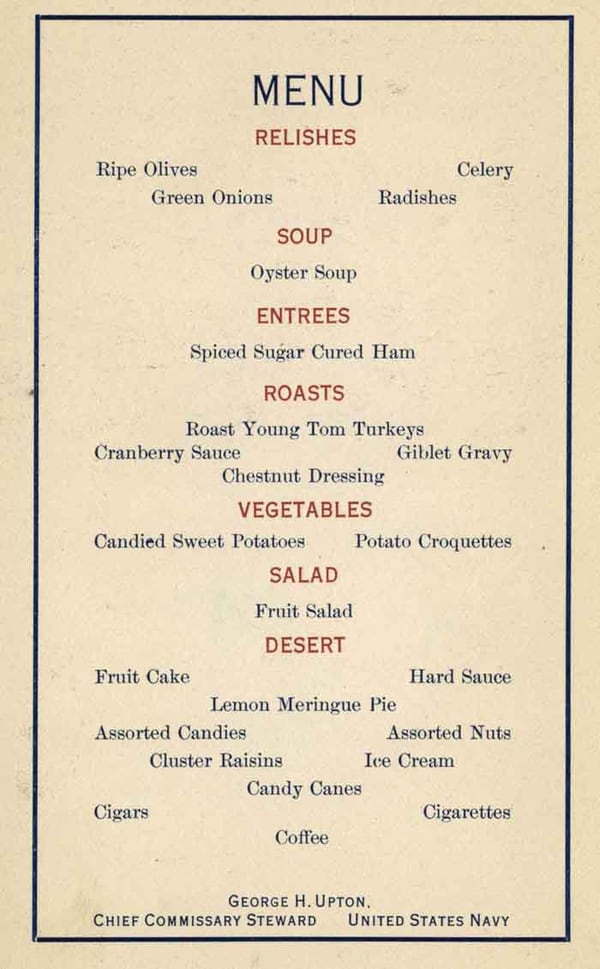 Menu – Relishes: Ripe olives, Celery, Green onions, Radishes; Soup: Oyster soup; Entrees: Spiced sugar cured ham; Roasts: Roast young Tom turkeys, Cranberry sauce, Giblet gravy, Chestnut dressing; Vegetables: Candied sweet potatoes, Poatato croquettes; Salad: Fruit salad; Des[s]ert: Fruit cake, Hard sauce, Lemon meringue pie, Assorted candies, Assorted nuts, Cluster raisins, Ice cream, Candy canes; Cigars, Cigarettes, Coffee – George H. Upton, Chief Commissary Stweard, United States Navy.
The Ship:  1941-The humble Bridge, the lead storeship (AF-1!) of her class, serving proudly through World War I and World War II.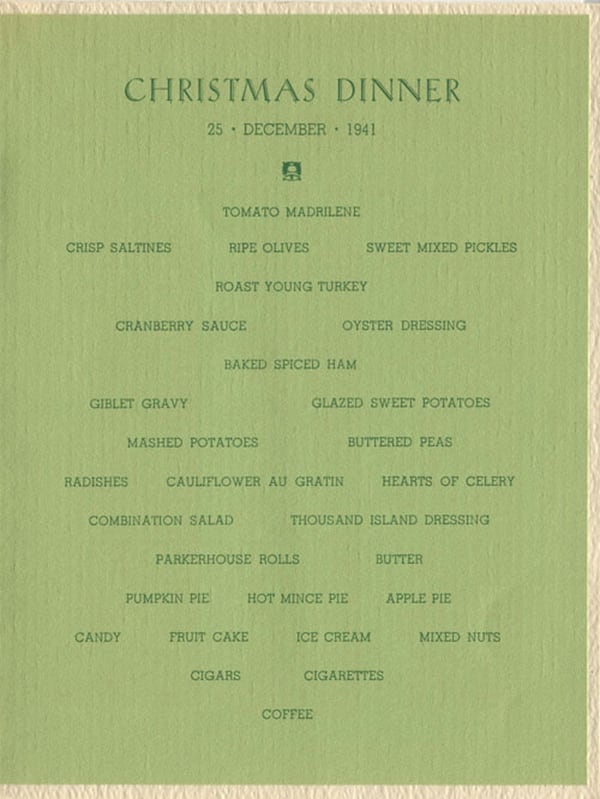 Christmas Dinner 25 December 1941: Tomato Madrilene, Crisp Saltines, Ripe Olives, Sweet Mixed Pickles, Roast Young Turkey, Cranberry Sauce, Oyster Dressing, Baked Spiced Ham, Giblet Gravy, Glazed Sweet Potatoes, Mashed Potatoes, Buttered Peas, Radishes, Cauliflower Au Gratin, Hearts of Celery, Combination Salad, Thousand Island Dressing, Parkerhouse Rolls, Butter, Pumpkin Pie, Hot Mince Pie, Apple Pie, Candy, Fruit Cake, Ice Cream, Mixed Nuts, Cigars, Cigarettes, Coffee.
The Ship: The Cavalla, a Sturgeon-class submarine